Wednesday, 15 January 2020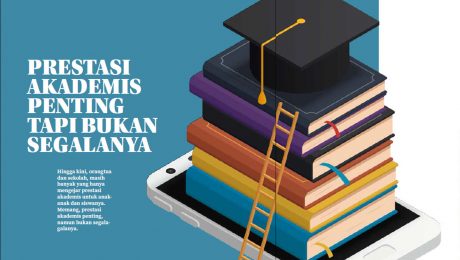 Mau tahu perubahan makna dan penerapan prestasi akademik untuk anak-anak kita.
Baca majalah artikel yang ditulis oleh Munif Chatib di dalam majalah Sahabat Keluarga Edisi 12 tahun ke empat Desember 2019 ,  hal 28.
Untuk selengkapnya bisa download di link dibawah ini :
-SAHABAT KELUARGA : KUNCI PENDIDIKAN ITU KONEKSI BATIN-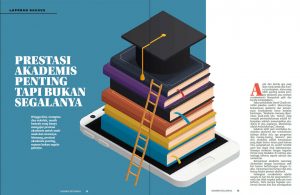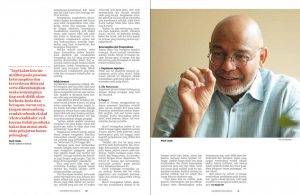 Kunjungi juga insanmandiri.sch.id
Wednesday, 18 September 2019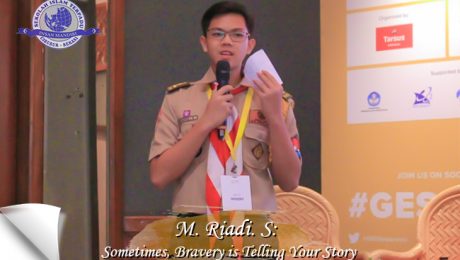 JAKARTA(18/9)–Munif Chatib brought a student to his session at Global Education Supplies & Solutions Indonesia 2019 held in the assembly hall of Jakarta Convention Centre. The guest star of this session titled How to Avoid Abuse was an eleventh grade social studies student from SMAIT Boarding School Insan Mandiri Cibubur named M. Riadi S. To give an unknown student seven minutes of stage time out of the very limited one hour period of his session was a power move on Chatib's part, and it worked.
Riadi served as a breath of fresh air in an assembly hall filled with mostly educators and tech-people—he was a student. Here was an amazing education focused exhibition and conference, yet it missed a vital part of the entire story, a student's perspective. There was a gap in the narration, then Chatib saw it, and then Riadi filled it. One of a key point in Chatib's presentation was about violence as a result of toxic masculinity. Chatib didn't word it as such but in essence, that was what it was. Taking this into consideration, what Riadi did was extraordinary.
Rewind back several hours before, I was there to help Riadi prepared himself for the occasion. I didn't do much except for pointing out where and when he might have needed a bridge and what was missing from his story. Obviously, I had my own opinions about it but this was not about me and I acknowledged that. This wasn't a discussion, a therapy session, or a lecture. This was about his own organic past experience and perspectives, I was just there to help him get that out.
Riadi was given the stage for about seven minutes to talk about his past experience of taking abuse from his seniors in his previous school. Putting it like that, it sounded fine. Except, readers, here's the thing: Riadi was a sixteen years old teenage boy willingly talking about his past abuse in public in front of roughly a hundred people. A sixteen years old boy being open and vulnerable about this in a society where toxic masculinity prevails—where he could very easily be ridiculed and mocked as "weak"—was to me, extraordinarily brave.
Riadi was not the loud and bright energy pulse Chatib and it was okay, he didn't need to be. He powered through his nerves of public speaking and his apprehension of telling a story that took part in making him who he was. He told us his story about how his seniors used to liberally use corporal punishment on him and his friends; how it was just tradition and seemingly endless cycle of abuse; why none of that was ever reported; how he thought there were ways to prevent it; how his current stay at Insan Mandiri Cibubur differed from that; how the experience shaped him as a person and a vice head of the student body; and how he hoped the audience could be the ones to finally break the chain.
The session moved on to the rest of Chatib's presentation but even when I talked to some of the audiences afterward, they mentioned being impressed at Riadi's part of the session. All in all, I genuinely thought it was a good and fruitful session for everyone involved.
—Nazalea Kusuma
Wednesday, 18 September 2019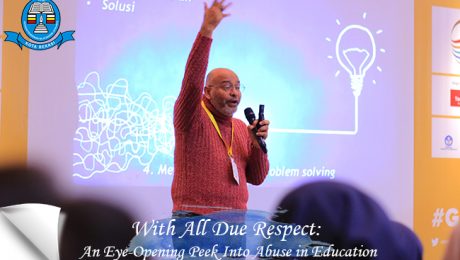 JAKARTA(18/9)–Working as an assistant to a prominent name in education is an experience of its own genre, especially when I accompany my boss to Very Big, Very Important Education Conferences. Okay, okay, I'm mostly kidding but also kind of not. Munif Chatib's one-hour session under the Leadership Stream banner at Global Education Supplies & Solutions (GESS) Indonesia 2019 was packed with curious, eager-to-learn educators and then some. It was an experience, all right.
Chatib's topic for that first day was "How to Avoid Abuse" and I would admit to being apprehensive of how he was going to tackle such broad yet important and crucial issue in an hour. His solution was to approach the presentation the exact way this issue exists: he did it broadly and treated it as important and crucial. He was never trying to kid us into thinking he would ever be able to really discuss the entire issue in under one hour and I, and I'm sure the audience, appreciated that.
A guest star in the shape of an eleventh-grade social studies boarding school student from SMAIT Insan Mandiri Cibubur, M. Riadi S, made an appearance and it might have been the breath of fresh air the entire conference needed. There was a conference—or an exhibition, what have you—about education and it was filled to the brim with educators and those in and around the industry with a distinct absence of a critical variable of the equation: students. Chatib sensed this shortcoming and proceeded to bring a student along to his session to give what educators really needed, a student's perspective. Riadi was given the stage for a short period of time and he told us about his experience with abuse from his seniors in his previous school.
As I've mentioned before, Chatib didn't exactly dig too deep into this issue simply because the time was very limited. However, he made sure to go broad enough and thorough enough to give his audience a lot to think of when they came home for the day. His presentation grazed the surfaces of different kinds of abuse, different ways abuse could occur, different ways educators might be able to stop it from happening. He mentioned the way pressure, order, and doctrine could be used as forms of abuse and perpetuated even longer cycles of abuse. I could see that for a lot of his audience, his session was eye-opening.
At the very end of his session in which he was trying to demonstrate how big of a difference it made to discover abilities instead of disabilities—in a non-fancy term, it was to look for the positives instead of the negatives—he told his audience to look to their right or left to find a partner. After that, he simply told these total strangers to say one good thing about each other right away. They did and then they all giggled and laughed. Compliments and laughter—I thought it was a perfect way to end a grim session regarding a heavy topic such as abuse with a bright, hopeful note.
—Nazalea Kusuma